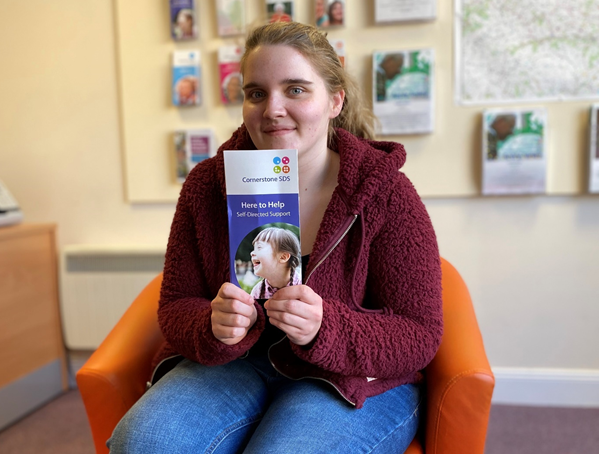 Providing Learning to Local Social Work Students
At Cornerstone SDS, we are regularly allocated a social work student for their work placement from Robert Gordon University in Aberdeen. This has been a great opportunity for our team to share learning, experiences and spread the word about self-directed support (SDS) to those training to provide support in the future. We have had the pleasure of welcoming second year student Stephanie to our team for the past 8 weeks. Stephanie has kindly shared her experience of what it has been like working with the SDS team. You can read all about Stephanie's time at Cornerstone SDS below.
Why did you decide to study Social Work at University?
"When I left school, I had no idea what I wanted to do. I took a year out and got experience working with children and young people and I loved it. I'm now in my second year of studying and I really enjoy it."
What were your first thoughts when you found out your placement was at Cornerstone SDS?
"When I found out where my placement was, I was quite nervous as I hadn't had any experience with SDS before. I was also excited to try something new as I already have experience within care work so I thought it would be interesting to see the 'other side'."
What have you learnt during your placement at Cornerstone SDS?
"During my time at Cornerstone SDS, I have learnt a lot about the 4 options available to supported people and the process of setting up a care package through self-directed support. I have also learnt about the different policies and training that is available for employers."
What has been your highlight?
"I have enjoyed my entire time at Cornerstone SDS, but my highlight has been visiting different Cornerstone services in Aberdeen and Aberdeenshire. It has been great seeing the range of work that Cornerstone does and the experience of shadowing their work has been invaluable. I have also been working to set up a peer support group for young adults living in sheltered housing. I have really enjoyed working on this and working with others to make it happen."
What will you be taking away from this experience?
"I have learnt so much about SDS and the different options available, something that will be really useful for me once I have qualified as a social worker. I have also had the opportunity to attend various meetings and discussions which has given me the knowledge that I need to best support people receiving care and support."